Genuine French Workwear Jacket 1G/5C Organic Twill
Iconic WW Jacket,
5-cm shorter (torso length) than style #4,
in iconic 100% organic cotton dungaree twill,
5 copper buttons, 3 pockets + 1 pocket inside.
(The dark navy, venice & dark khaki jackets bear "old rifle" buttons).
ACHTUNG ! VETRA SIZING FOR GERMANY

VETRA FR

42

44

46

48

50

VETRA DE

48

50

52

54

56
Vétra: Authentic French Workwear Manufacturer Since 1927.
Since 1927, Vétra has been manufacturing all its iconic garments in its own French factory, benefiting from its unique savoir-faire.
This (organic) twill chore jacket is inspired by the original Bleu de Travail made by Vétra since its inception for French workers. This style is 5cm shorter than the original style #4, adding a modern touch to the design.
Twill fabric emerged as the preferred choice over moleskin, becoming an iconic fabric in French workwear, while drills were favored by Anglo-Saxon counterparts. This fabric is woven with two-ply warp yarns, providing enhanced durability.
The color palette stays true to authenticity: black and Bugatti blue were the predominant colors until the 1950s, later replaced by hydrone and navy blues. Additionally, the blueish grey, known as postman blue, was specifically designated for postmen. Today, Vétra offers an exclusive and extensive range of colors, all 100% dyed in France, including bottle, pineapple, quince, and waid.
Discover Vétra's collection of authentic French workwear, meticulously crafted with decades of expertise. Choose this (organic) twill chore jacket, inspired by the iconic Bleu de Travail, for a touch of modern style and embrace the rich heritage of French workwear.
Care Instructions
Wash and iron inside out
Do not bleach
Do not tumble dry
Mild detergent only
Follow the instructions on the product label


Delivery
Standard & express shipping

The shop strives to ship products as quickly as possible. The standard delivery times are indicated when you choose the carrier. If you wish a particular date of delivery, or faster, you can request us through the contact-page.


Returns

Return requests must be made through the contact page or directly from the customer account. In case of exchange please specify size and color on the return form. Returns are accepted within 14 days from the date of delivery.


Delivery zone

Germany
Austria
Belgium
Denmark
Spain
Finland
France
Hungary
Irland
Italy
Luxembourg
Norway
Netherland
Portugal
Czech Republic
United Kingdom (Contact-us)
Sardegna
Sicily
Slovakia
Sweden
Switzerland (contact-us)
Australia
Canada
South-Korea
United-States
Hong-Kong
Japan
Singapore

The iconic Chorejacket
The French work jacket is a symbol steeped in history, a true heritage of industry and labor in France. Among these jackets, Vétra's historic work jacket stands out for its authenticity, its French manufacturing in its own factory, and its deep connection to the working-class heritage.

For decades, Vétra's work jacket has been a faithful companion for workers in various sectors. Crafted with care and expertise, it embodies the values of sturdiness, functionality, and durability that characterize French craftsmanship.

The history of the work jacket dates back to a time when industry was flourishing in France. In an era when workers faced demanding working conditions, this jacket provided them with essential protection and comfort. It was made from highly resistant fabrics such as cotton or linen canvas, with practical details like reinforced pockets and distinctive shapes.

Vétra has played a pivotal role in the evolution of the French work jacket. Since its inception, Vétra has successfully combined tradition and innovation by adapting its jackets to the changing needs of workers. Vétra jackets are the result of generational craftsmanship, with meticulous attention to detail and the use of high-quality materials.

Today, Vétra's work jacket continues to represent the spirit of the French workwear, its commitment, and pride in preserving a century-old craftsmanship. Whether on construction sites, in workshops, or in professions that require solid protection, or even for those who appreciate fine products, Vétra's work jacket remains a reference choice for those who value authenticity and the history it embodies.

When you wear a Vétra work jacket, you carry a piece of French history and culture. It pays homage to the workers who have shaped the industry and economy of the country. It also serves as a reminder of the importance of work and the role it plays in our society.

Explore Vétra's collection of work jackets and delve into the rich history of the French workwear. Discover these authentic pieces, designed to endure and bear witness to the French craftsmanship savoir-faire.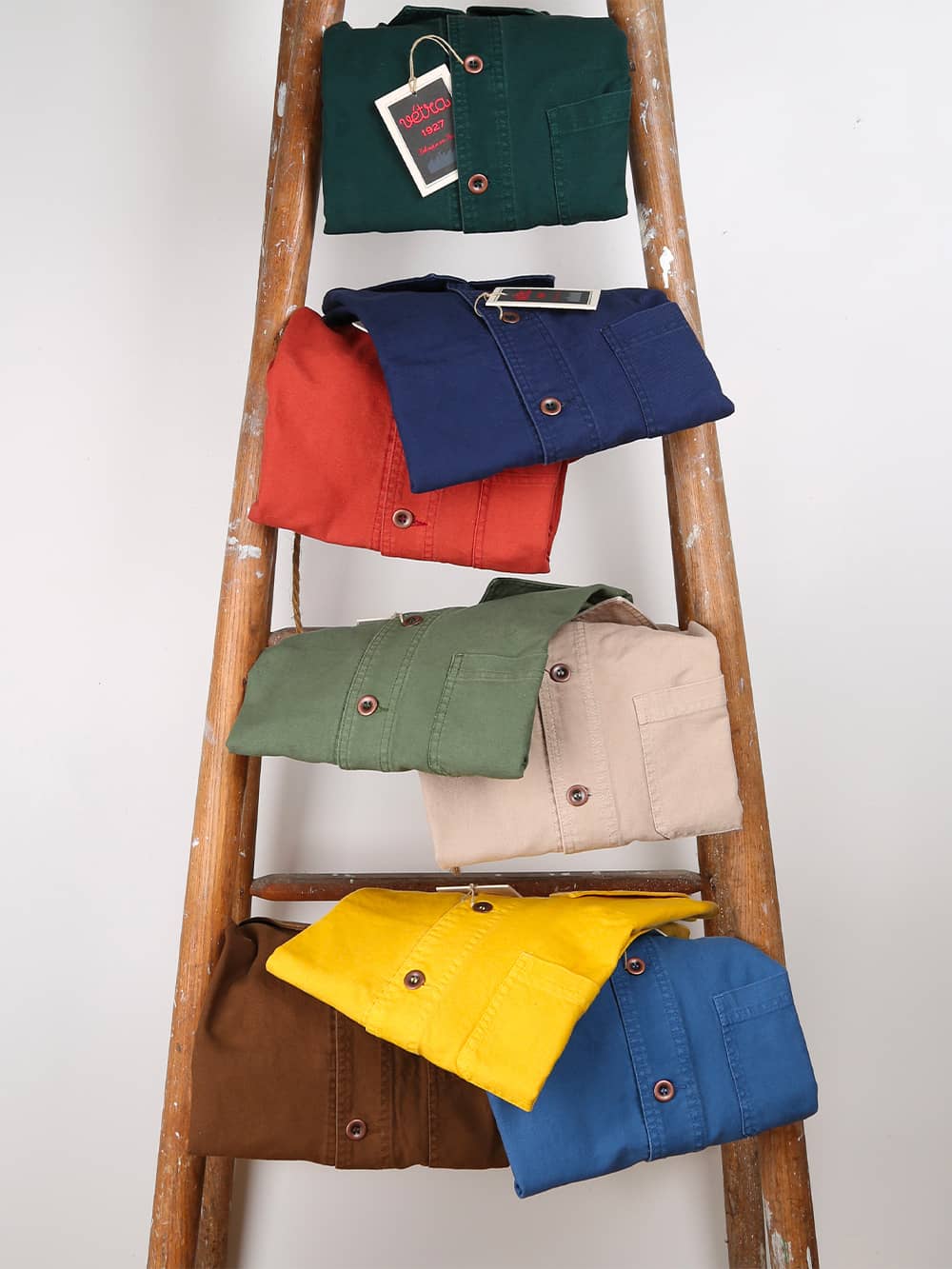 You might also like
Products from the same category

To match with