Workwear Jacket in twill fabric 1G/4
Jacket, genuine & iconic,
in 100% organic cotton twill fabric,
5 buttons, 3 pockets + 1 pocket inside.
Length S46 : 76 cm
ACHTUNG ! VETRA SIZING FOR GERMANY

VETRA FR

42

44

46

48

50

VETRA DE

48

50

52

54

56
Vétra: French Workwear Garments Crafted with Unique Expertise Since 1927.
Vétra has been manufacturing all its garments in its own French factory since 1927, allowing them to benefit from a distinctive savoir-faire.
This twill chore jacket, now made with organic materials, has been Vétra's flagship garment since 1927, famously known as the "Bleu de travail" or the French Dungaree Jacket.
The colors of the jacket are authentic as well. Bugatti blue and black, easy to produce and clean, were the primary colors until the 1950s when they were replaced by hydrone and navy. The blueish grey, also known as postman blue, was the distinctive color for postmen.
The jacket was an integral part of the factory worker's triptych outfit, along with fatigue pants and coveralls.
This iconic jacket served as an inspiration for CLOSED in their workwear collaboration with J-M Girbaud and Vétra.
Choose Vétra for genuine French workwear garments crafted with decades of expertise. Experience the timeless appeal and superior quality of our twill chore jackets and explore the rich history of workwear through these iconic pieces.
Care Instructions
Wash and iron inside out
Do not bleach
Do not tumble dry
Mild detergent only
Follow the instructions on the product label


Delivery
Standard & express shipping

The shop strives to ship products as quickly as possible. The standard delivery times are indicated when you choose the carrier. If you wish a particular date of delivery, or faster, you can request us through the contact-page.


Returns

Return requests must be made through the contact page or directly from the customer account. In case of exchange please specify size and color on the return form. Returns are accepted within 14 days from the date of delivery.


Delivery zone

Germany
Austria
Belgium
Denmark
Spain
Finland
France
Hungary
Irland
Italy
Luxembourg
Norway
Netherland
Portugal
Czech Republic
United Kingdom (Contact-us)
Sardegna
Sicily
Slovakia
Sweden
Switzerland (contact-us)
Australia
Canada
South-Korea
United-States
Hong-Kong
Japan
Singapore

The historic work jacket
The #4 style jacket is the historical form of the authentic French work jacket. Being 5cm longer than the #5 jacket, the #4 has preserved its historical characteristics such as its black buttons, reinforced pockets with bar tacks, and its highly durable fabric in its century-old colors.

Founded in Paris in 1927, Vétra is an iconic brand that embodies the rich history of French workwear. Rooted in artisanal traditions and heir to the first garments designed for workers, Vétra has played a key role in the evolution and popularization of this unique clothing style.

The origin of workwear dates back to a time when France was experiencing industrial growth. With the advent of factories and construction sites, workers needed sturdy and functional clothing to withstand the rigors of their daily work. Thus, the first work jackets were born, marking the beginning of a long tradition of French workwear.

Vétra quickly distinguished itself by offering high-quality workwear designed to withstand the most demanding conditions. The brand brought innovations in materials and designs, providing workers with optimal protection without compromising on style and comfort.

Over the decades, Vétra has continuously adapted its workwear to the changing needs of French workers. Whether in industry, craftsmanship, or agriculture, Vétra clothing has become trusted companions for those who work hard every day.

The Vétra work jacket embodies the heritage of these early French work garments. Carefully crafted in their own factory in France, each Vétra jacket is the result of craftsmanship passed down through generations. Practical details, meticulous finishes, and a rigorous selection of materials attest to Vétra's commitment to quality and authenticity.

Today, Vétra perpetuates this age-old tradition by offering a diverse range of workwear inspired by historical models. Whether it's the classic work jacket, work pants, or overalls, each piece is designed to withstand the test of time while retaining the timeless style that has made the brand renowned.

By choosing Vétra workwear, you connect to the fascinating history of French work garments and the pride of the French worker. Every stitch, every button tells a story of hard work, resilience, and dedication.

Discover the Vétra collection and immerse yourself in the exciting history of French workwear. Pay tribute to the men and women who have contributed to shaping our country and proudly wear a garment that symbolizes their legacy.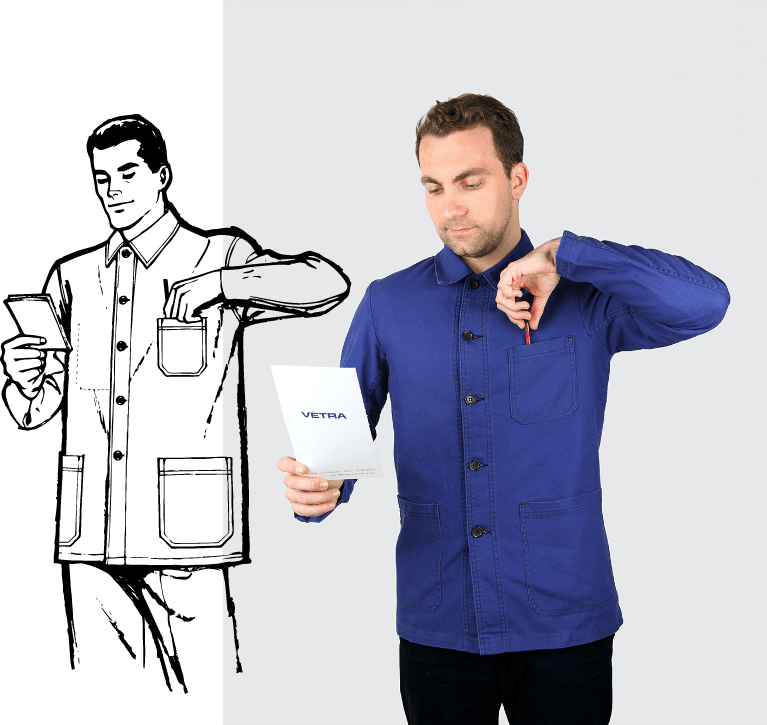 You might also like
Products from the same category

To match with