The genuine Women's French Marinière "Marine Nationale"
The genuine French Marine Nationale woman striped shirt.
As an official retailer of the historic brand Orcival, we are proud to present our flagship product: the Marine Nationale marinière, a timeless and authentic icon, entirely made in France for women.
The Orcival marinière is the ultimate symbol of French elegance and style. Crafted with care in our workshops in France, each marinière embodies an artisanal craftsmanship passed down from generation to generation. We take pride in perpetuating this tradition and offering you a product of exceptional quality.
The Marine Nationale marinière is the perfect choice for women seeking a garment that is both classic and trendy. With its timeless design of blue and white stripes, it adds a touch of chic to any outfit. Whether for a casual occasion or a more dressed-up look, the Marine Nationale marinière is versatile and suitable for all occasions.
As an official retailer of the Orcival brand, we are committed to providing you with an exceptional shopping experience. We are proud to collaborate with a brand that shares our values of authenticity, quality, and durability.
Order your Marine Nationale marinière now on our online store and enjoy the guarantee of purchasing an authentic, made-in-France product. Add an iconic piece to your wardrobe and let the Orcival marinière reflect your timeless style.
We invite you to explore our complete collection of Orcival marinières as well as other high-quality products to complement your outfit. Customer satisfaction is our top priority, and we strive to offer you a seamless and enjoyable online shopping experience.
Look no further, the Marine Nationale Orcival marinière is the perfect choice for women in search of authenticity, style, and quality. Order now and be part of French fashion history with Orcival.
Care Instructions
Wash and iron inside out
Do not bleach
Do not tumble dry
Mild detergent only
Follow the instructions on the product label


Delivery
Standard & express shipping

The shop strives to ship products as quickly as possible. The standard delivery times are indicated when you choose the carrier. If you wish a particular date of delivery, or faster, you can request us through the contact-page.


Returns

Return requests must be made through the contact page or directly from the customer account. In case of exchange please specify size and color on the return form. Returns are accepted within 14 days from the date of delivery.


Delivery zone

Germany
Austria
Belgium
Denmark
Spain
Finland
France
Hungary
Irland
Italy
Luxembourg
Norway
Netherland
Portugal
Czech Republic
United Kingdom (Contact-us)
Sardegna
Sicily
Slovakia
Sweden
Switzerland (contact-us)
Australia
Canada
South-Korea
United-States
Hong-Kong
Japan
Singapore

The authentic mariniere
The marinière, originally a workwear garment, has become an iconic symbol of the French military navy and maritime style.

The French naval decree of 1858 standardized the appearance of sailors by precisely defining their uniform, which was provided by the army, contributing to the uniformity of the French military. The marinière featured twenty indigo blue stripes, each ten millimeters wide and spaced twenty millimeters apart, on the chest and back. The sleeves had fourteen indigo blue stripes and twenty-one white stripes, with the same spacing, and were three-quarters in length, not extending beyond the jacket. The flared neckline, now known as the boat neck, rested at the base of the neck.

The marinière was an undergarment for sailors, visible during their tasks or rest, but covered by the jacket during official ceremonies. It quickly became a symbol, especially thanks to early 20th-century photographs that depicted the everyday life of French sailors.

The Orcival marinière embodies our values and those of our customers. Made in France, it is designed to last and remains timeless. Some models of marinières from the French Navy, recognizable by their indelible numbers, find new life in thrift stores, further enhancing the reputation of our brand. Authentic and steeped in history, the Orcival marinière is an enduring garment.

At Orcival, we distance ourselves from fast fashion and its disposable approach. The Orcival marinière is meant to stay in our customers' wardrobes for many years without compromising its style. As an authentic brand and a reference for the true French marinière, Orcival is part of the French heritage.

The straight cut and refined style of the Orcival Marine Nationale marinière are the result of these functional requirements.

Over time, the marinière has been embraced by fashion icons such as Gabrielle Chanel, Yves Saint Laurent, Jean Paul Gaultier, Picasso, Brigitte Bardot, Jean Seberg, and Charlotte Gainsbourg, further solidifying its status and reputation.

The Orcival marinière, made of heavy cotton, adheres to the codes of a garment designed for work, with a noble purpose. It is made to endure and gain character over time. It now embodies a unisex product appreciated by both men and women. Whether in long or short sleeves, the Orcival marinière is a casual garment that pairs perfectly with t-shirts and sweaters.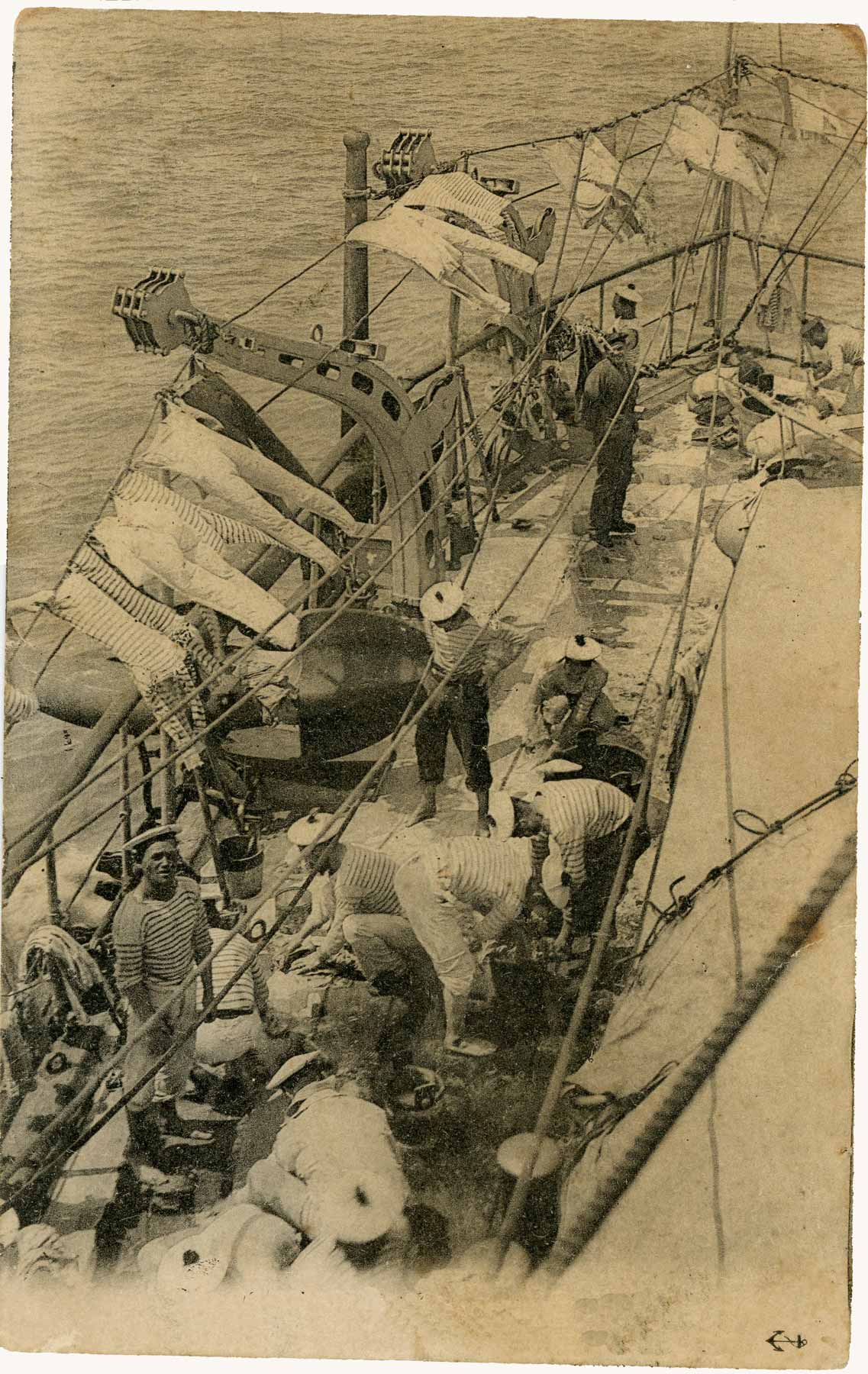 You might also like
Products from the same category

To match with